The Tub Doctor was established in 2008. We saw the need for a good quality tub refinishing/re-glazing business. Brian Peach, the owner/operator was trained and certified by the premier tub re-finishers in North America. For more than five years we have refinished hundreds of bathrooms for our satisfied customers, which include individual homeowners as well as commercial establishments such as apartment buildings, hotels and others.
One thing is for sure: all tub/tile re-finishers are not the same. We offer a two hour drying time, which is unique to the industry and we guarantee our workmanship against peeling or fading for five years.
As the business developed and grew, we introduced other services such as (a) anti-slip bottoms, (b) restoration of antique claw-foot tubs, (c) drain/overflow replacements. Since 2009 we have offered a safety Step-in that converts your existing tub into a step-in shower for people that have difficulty getting into their tub.
Our retail store is located at 5905 Malden Rd. where we display our products and services. As we go forward, we will continue to provide our current and future customers with the best products and services available.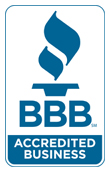 With the advanced paint quality we use, it allows us to offer you a 2 hour drying time. Not only that, we can also custom colour the paint within our selection of hundreds of colours.
Our products we use are non-toxic and have low odour so they are not harmful to children or animals. You will not have to leave the premises while the job is underway.
Total Job Completion within one day
Due to our advanced painting quality the job can usually be completed within 3-4 hours. This can change if there are  any issues that arise.
Caulking included in reglaze
As part of the re-glaze, we remove the old caulking and replace it with new caulking.
Not only do we re-glaze your tile, but we can re-glaze your tile at the same time to give your bathroom a complete look. We can customize the colour to match your preferences. Your re-glazing has a 5-year guarantee.

We have been affiliated with BBB since we have started, and have maintained an A+ rating.